Eskridge & Ramsey Industries Honored At AMA-Oklahoma City Awards Gala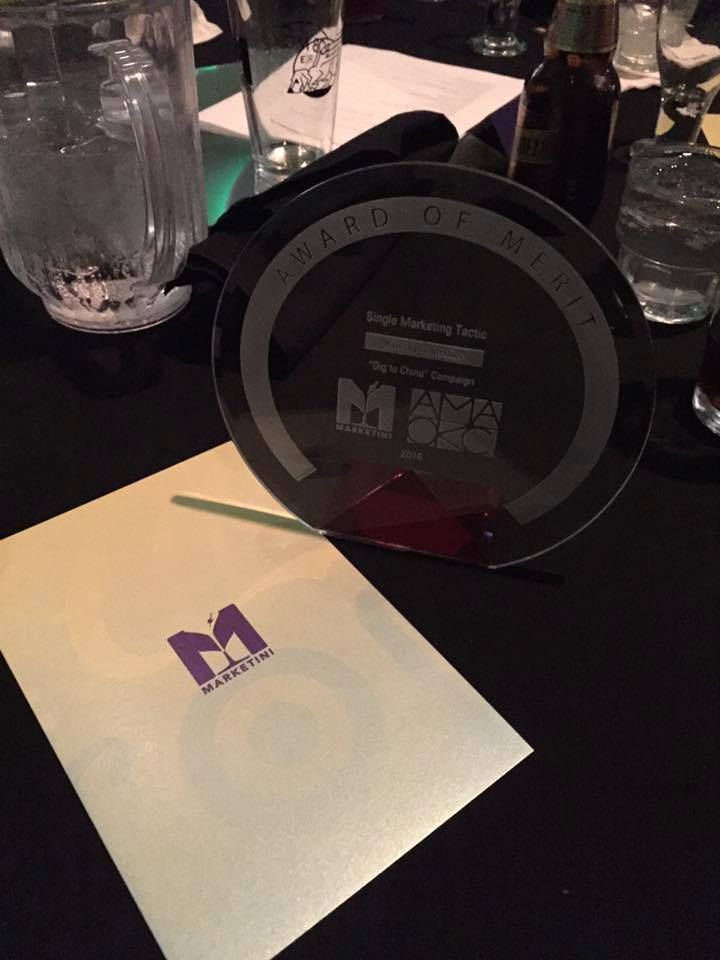 Marketers from across Oklahoma gathered on the evening of April 22 to be recognized for their best work at Oklahoma's hallmark of marketing achievement awards – the AMAOKC Marketini Awards. Large agencies went head-to-head with small in-house marketing departments, with multi-state judges looking for creative approaches, strategic planning and quantifiable results.
A panel of marketing professionals evaluated all entries from seven categories based on criteria, such as an understanding of the initial problem, established objectives, strategy, tactics, and use of available budget.
Eskridge's "Dig To China" campaign won the 2016 Merit Award in the Single-Marketing Tactic category.
"This award is a testimony to the hard-work and progressive strategy that Eskridge (and Ramsey Industries) has implemented into their businesses," said Aaron Rayner, Ramsey Industries' Marketing Manager, who attended the event and accepted the award on Eskridge's behalf. "The "Single Marketing Tactic" category is the largest category of the event. When you look at the competition and the level of participation, you realize what a great honor it is to receive recognition in this playing field."
Eskridge's "Dig To China" was an end-of-year lead generation/revenue campaign designed to make one final pass at selected markets for the closing of 2015 business. The campaign was a fourth quarter success. There were two primary objectives that needed to be hit in order for the campaign to achieve the desired result:
1.) Generate end-of-year revenue in a short period of time (<60-days)
2.) Generate end-of-year leads/opportunities to roll-over into the 2016 sales pipeline
Direct-email marketing metrics reported 98.49% email delivered status with a 1.50% bounce rate on a targeted persona list of 11,000 recipients and reported an 11.96% open rate. The overall ROI of the campaign was +4674%.